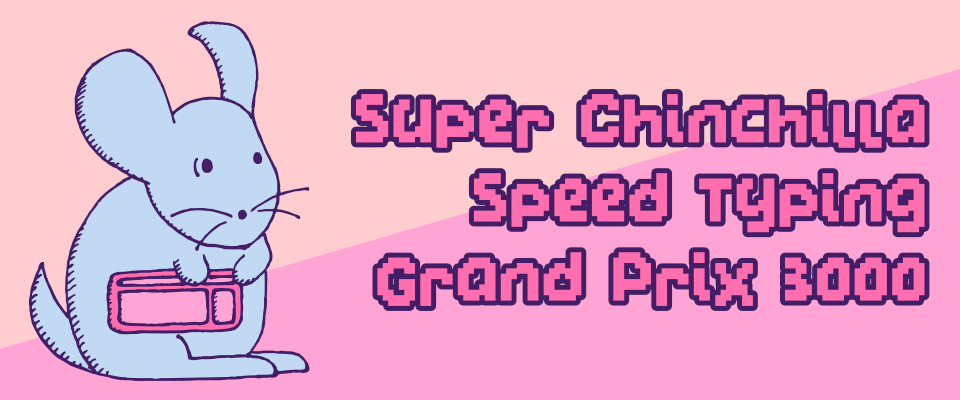 Super Chinchilla Speed Typing Grand Prix 3000
Super Chinchilla Speed Typing Grand Prix 3000 (SCSPTP3000) is a typing game with abstracted racing rules.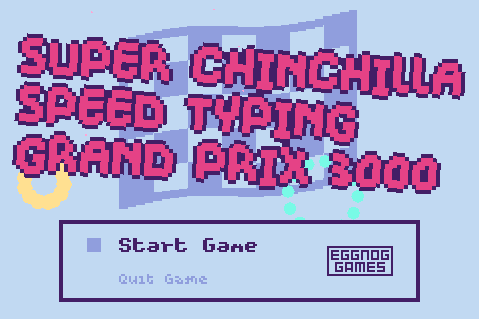 All 120 levels are based on a specific word in the English language, but in this game, you'll be typing more than just words. In SCSTGP3000, you'll come across Keyboard Rudiments - shapes and patterns on the keyboard - which allow you to type gibberish at a blazing speed! You'll need to master these rudiments to unlock the gold rings in every zone. Practice individual levels to master your skills, or tackle the Grand Prix to unlock new levels!
Do you have what it takes to become a SCSTGP3000 champion? Of course you do! So stretch those fingers and get practicing, because you're on the road to become the fastest chinchilla typist of all time!
Launching the Game
Windows
1. Download SuperChinchilla_Windows.zip.
2. Right-click the zip file, and select Extract All.
3. Follow the prompts, and select where you'd like the files to be extracted too.
4. Navigate to the extracted folder, and double-click on SuperChinchilla.exe.
5. If Windows warns against opening this file because it is an EXE, ignore the warning and run the file anyway.
Mac
1. Download SuperChinchilla_Mac.zip.
2. Double-click the zip file to extract it.
3. Navigate to the extracted folder, and double-click SuperChinchilla.love.
Download
Click download now to get access to the following files:
SuperChinchilla_Windows.zip
4 MB
SuperChinchilla_Mac.zip
7 MB
Comments
Log in with itch.io to leave a comment.
I'd like to play it but it doesn't seem to run on my computer ;-;
This game was cute! I did have a few issues sometimes with reading certain text. Maybe it was just me. I exaggerated a lot but I definitely felt like this could have been a secret horror game at the end (I think I got to level 4 or 5 before stopping).
Hi Nathan! I got a huge kick out of this! :) it's definitely not a traditional typing game, and it was hilarious to watch you figuring out some of the tricks. Thanks for checking it out, and thanks for making a video! :)
So with the browser version will I be able to play it?
That would be the hope! Then you'd just be able to play on the internet, instead of having to download anything!
I'm new to this site and this looks like a really fun game and this is probably a very stupid question but once you download it how do u start playing it???
Hi Popping_Boba! Are you running Windows or Mac?
Well I don't really know if i'm using Window but I know i'm not using Mac but the device i'm on is a Chromebook and also thanks for replying pretty quickly. :D
You might be out of luck for the moment on a Chromebook, but I'm hoping to get a browser version up and running within a week or two! I'll message you when that version is up! Otherwise, if you have access to a Mac or PC, I've added launch instructions to the game description above. :)
Hi Popping Boba! I've uploaded a browser version, so hopefully this works for you! If it doesn't, you may need to find a PC or Mac to play on, because I don't have a Chromebook to test on! Hope you like it. :)
nice! I like it, I get to the level 4 it is quite confusing when it changes the order haha, you should edit the config file to add the icon and the name when the game is in window mode. also you can add an icon to the exe


Hi R2Cris! I'll take a look into those adjustments! I'm planning to do web releases soon as well, so there might be a few adjustments that happen before the second release. Thanks for playing, and thanks for the feedback!
Hi again R2Cris! I've made those adjustments to the Windows build, so if you re-download, all icons seem to be proper now! :) Thanks for the suggestion.